Any website owner's main objective is to turn visitors into customers. What, in your opinion, makes sure that website visitors stick around on your page until they get the answers to their questions? It is UX (user experience). Your eCommerce marketplace is shaped in part by how you display your website, what you do to make your content engaging and educational for your audience, and how you design your website. You might have created a reliable website. But unless it is good enough to catch people's attention, it won't produce the best outcomes. In this article, we've discussed a few practical strategies for winning customers over to your marketplace and giving them a hassle-free online purchasing experience. Let's look at this:
Seamless and Flexible Communication
A quick and simple way for people who are interested in your goods and services to get in touch with you is required. Basically, they shouldn't have any trouble getting in touch with you. Create the contact page first. This is where you should list your business's physical address, phone number, email address, and other contact details.
Having a toll-free number that clients may call to get in touch with your support staff in case they need assistance is equally crucial.
You might also set up a live chat system so that your visitors can converse with real people and receive rapid responses. The experience will be greater if you make it simpler for your clients to contact you.
Improve the look of your website

Your website's layout makes a positive first impression on visitors. It should therefore go without saying that it must be tidy, clear, and presentable. The website needs to have a polished, appealing appearance. After the launch, you might need to make any changes to your web design. This is due to the frequent changes in the trends in the web design sector. Simple texts on a one-color monotonous layout are so 2020. You need an appealing site design if you want to draw in your audience. What may be done to enhance web design is as follows:
Use the layout wisely to enable easy navigation for your consumers and to ensure that they can locate everything they need on the first page.
Create a responsive website. The location of your contact tabs and other important information should be plainly apparent.
Navigating should be easy. The ease of navigation determines how well your website performs in the eyes of your audience. To make it simple for your audience to navigate from one page to the next, use scroll bars, categories, menus, and other alternatives.
Prioritize the Content

Your target audience may be interested in the blog you post on your website. But when the writing is enthusiastic, upbeat, and filled with other qualities that benefit the reader, that is achievable. The interesting content is one of the factors that keeps visitors coming back. Their engagement continues to grow as a result. What you can do to make your content educational and worthwhile for your audience is listed below:
Give your audience precise information so they can connect with you
For your blogs, articles, listicles, product descriptions, and other material, you must pick a suitable content format.
Keep your SEO in mind. Any website's success mostly hinges on how well it is optimized for search engines. Your website will perform better over time and get more people if it is placed higher in search results.
Keep up the quality. The caliber of your website's content determines how well it ranks in search engines.
Increase Market Trust
Your marketplace's success is reliant on authority and trust. It is imperative for your company to have a strong multi-seller marketplace because you are required to collect users' financial and personal information. How can you increase the authority and security of your website? The following elements are essential for your online marketplace to have if you want to establish authority and confidence.
Website's Terms & Conditions page, which describes users' obligations,
Reviews and rating section where clients can provide comments Money-back promise
Escrow services to secure the security of transactions
A strong customer service department that assures your clients they may contact the team for assistance if they run into any problems placing purchases.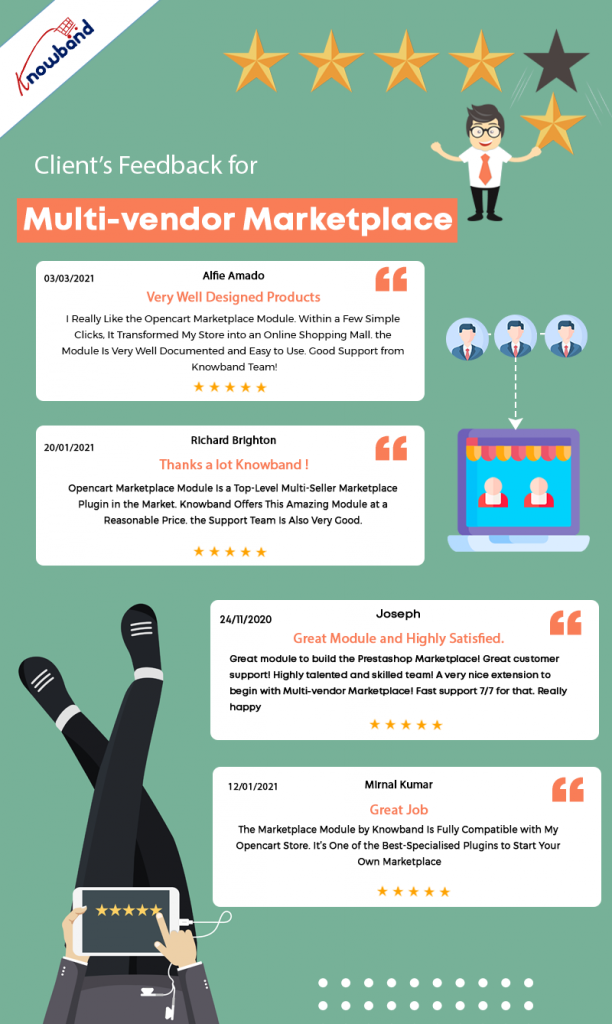 Final Words:
There are numerous strategies for increasing consumer confidence in your multi-vendor marketplace and for making your website user-friendly. You may rank well on Google by using the aforementioned techniques to raise the search engine ranking of your website. Work on improving your SERP, the quality of your content, and the design and user experience of your website. Knowband the leading multi-seller marketplace development company has come up with an amazing solution to transform your online store into a fully-functional marketplace in a few simple clicks. Best of luck!