Imagine, walking by a store, and purchasing all of your favorite kinds of stuff took you a few hours. Now, when you reach the bill counter you see a long row of people who are already waiting for their turns. The waiting scene is discouraging and you suddenly moved out of the store without making the purchase.
The store owner loses a customer because of the long waiting time. The same scenario can happen at an online store if your checkout page is not optimized. Half of the users abandon their cart due to long registration forms or a compulsory sign up. A curated, well designed and fast loading checkout page can help you boost your conversion.
For this purpose, e-commerce organizations need to consider the following features and services offered by this OpenCart One Page Checkout extension to increase their conversion levels and product sales.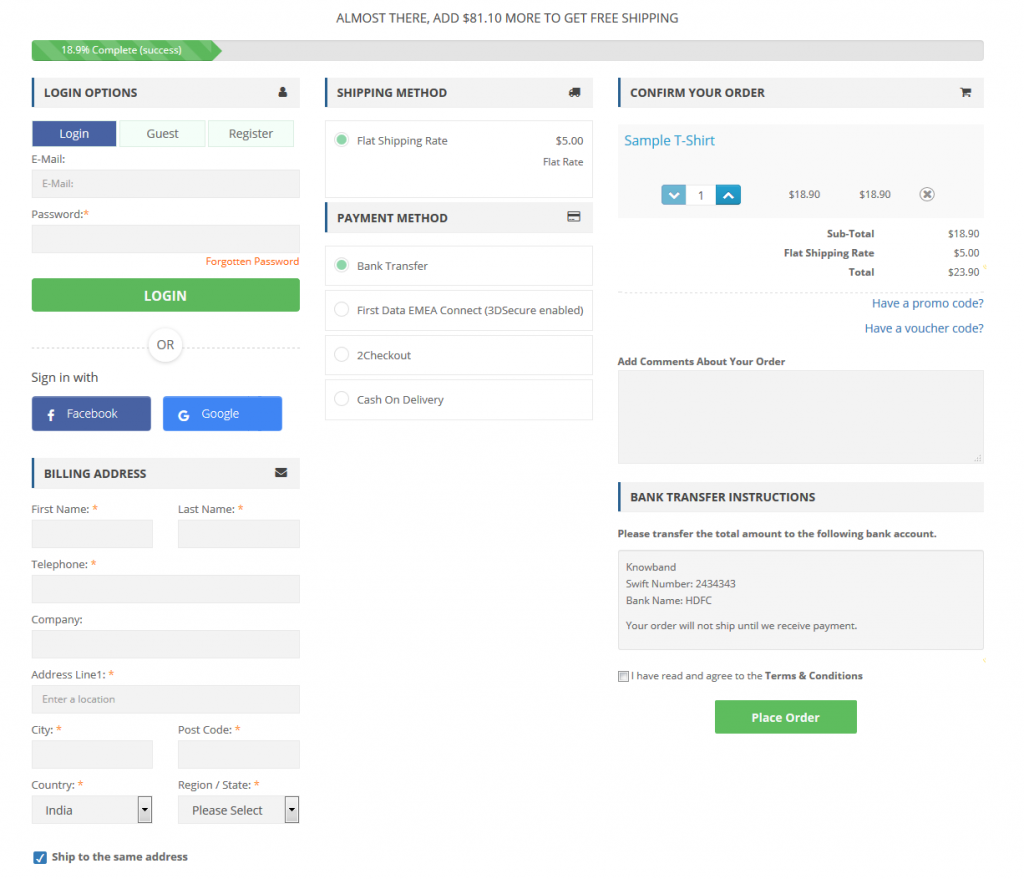 Provides an approach to the shopping cart details

While shopping in-store, your purchased products are always available in front of you. With OpenCart One Step Checkout extension, customers can see the purchase list or the cart details on the checkout page with thumbnail images.
Not many will forget about the shopping product details but why to take a risk with those few who might. Providing easy access to the shopping cart details will engage your customers on the page without going back.
Skip the Mandatory Sign-up and increase registration with Guest checkout and social login
A popup for signup can be annoying if it appears in the middle of your smooth shopping journey. To avoid making your customers go away allow them to do quick registrations or easy sign up with guest checkout or social login. OpenCart fast checkout extension will increase the registrations and boost conversions on a large scale.
Free shipping and Discount coupons can do magic

A buyer has shopped for $40 and charged with a shipping cost of $5 then he/she looks at a free shipping bar which says 'Free shipping above $50'. What do you expect him to do? He will definitely add new products in the cart to meet the amount of free shipping. A free shipping bar can do magic and increase your sales.
OpenCart Quick checkout module shows a free shipping bar at the top of the checkout page. This is an easier way to make your shoppers purchase more. Free shipping is a key element for boosting conversions.
Admin can put a coupon code with some condition in the custom fields provided in OpenCart One Page Checkout Pro. A coupon with a 20% discount will influence the shopper for completing the purchase.
Freedom to perform various customizations through admin panel
An OpenCart store admin can add custom fields; make some of the unnecessary fields for shipping form or payment form optional.
With the help of the OpenCart One Page Checkout extension, website admin can easily have full control over their website and have the freedom to make any necessary improvements to the features, layout, and design of their website.
Customers can shop from any device

Now, more than ever, consumers can purchase products from almost any store in the world. That's why the e-commerce industry is booming. It is necessary to make sure your store website is mobile responsive.
OpenCart One Page Supercheckout is built on a responsive design that can work effortlessly on multiple computing devices like desktop, laptop, mobile, or tablet.
With OpenCart Simplified Checkout module, if the buyer wants to shop from his mobile, the checkout process will never be a hurdle in their shopping experience.
Bring back Customers with Re-targeting

Responsive One Page Checkout can be an adequate module for your OpenCart store for gathering emails and increasing registration. OpenCart one page checkout extension boosts conversion with social login and MailChimp email Integration tool. All of the collected information will be synchronized with the MailChimp integrator.
Email marketing is used to target potential or current customers. By retargeting the customers and informing them about back-in-stock products, pending carts, discounts, and sales, admin can improve conversion rates.
Reduces cart abandonment

A well-organized Checkout page with fewer mandatory fields can reduce your abandoned carts. OpenCart Single Page Checkout extension helps users register in fewer clicks, offers guest checkout and social login options. OpenCart fast checkout extension allows admin to make some of the fields optional.
A customer who is in a hurry can skip those fields. OpenCart One Page Checkout extension is incorporated with a feature Google auto address fill, which extracts the address details. The faster checkout will reduce the cart abandonment rate, increases sales and customer satisfaction in the store. 
With the advancement in technology and increased number of mobile phone users, it gets important to make the store available on different gadgets. OpenCart One Page Checkout Pro extension by Knowband has a highly responsive website composition that makes it viable with different devices. 
Final Words
For an OpenCart store, a quick, simple and responsive One Page Checkout will be the best replacement for the conventional multiple page checkout. It can benefit the admin in many ways; it covers all the necessary aspects and key elements like customer experience, conversion, and retention rate. You should check the mobile app
OpenCart One Page Checkout extension supports multilingual, multi-store compatibility, and Journal theme compatibility. Incorporate this fully customizable attractive checkout page to your OpenCart eCommerce store and see the difference.