Tracking the requirement of your clients becomes easier with OpenCart Advanced Wishlist. Once the installation of this plugin is complete, the clients can browse through the eCommerce store and add items to their account's profile. The plugin helps store admin to analyze the Products that are in demand in Interactive graphical format. OpenCart Wishlist extension enhances client's experience on your eCommerce store.
Besides improving the shopping experience of the clients, Wishlist is capable of providing a much deeper, strategic value to online retailers. A wishlist creates an opportunity for clients to save items" for future purchases. OpenCart Wishlist extension serves as a convenient way to remind clients about the products that made it to the list. Because this feature saves a lot of browsing time on smaller screens, therefore, mobile shoppers find this feature appealing.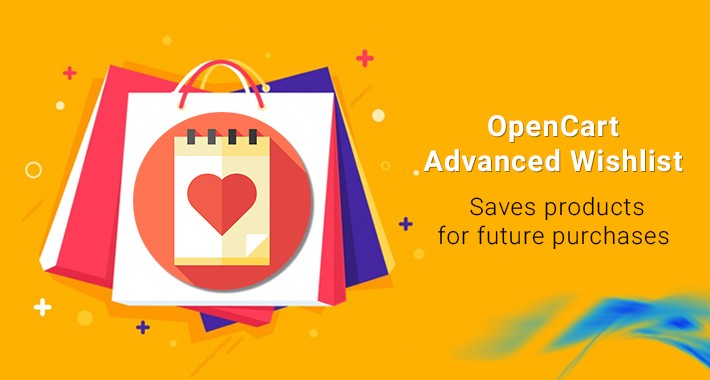 Features of OpenCart Advanced Wishlist extension
1. Maintain Private Wishlist With OpenCart Advanced Wishlist extension
OpenCart Save For Later addon offers the option to create their wishlists and save products in it for future reference to both, guests as well as registered clients. This extension permits clients to save the limitless number of the item to their wishlist.
2. Analyze the Product With Opencart Save For Later Plugin
OpenCart advanced wishlist addon allows the store seller to analyze the product, which item is most requested or most popular. The category/product analysis reports are available by the OpenCart store admin in the form of a graph.
3. Customer Analysis With Opencart Save For Later Plugin
OpenCart favorite product list addon permits the eCommerce retailer to analyze the client lists with the number of the products that are In the wishlist.
4. Wishlist for Opencart Provide Order Analysis
The Order listing tab has been provided by the OpenCart wishlist addon. Further, the store vendor can view the number of ordered products after being shortlisted by the client.
Admin Benefits Offered By OpenCart Wishlist Extension
Store admin can identify trends easily with the help of Opencart Advanced Wishlist Extension and optimize your merchandising tactics to capitalize on them.
The effectiveness of your follow-up email marketing campaigns can be easily and quickly measure with OpenCart Wishlist Extension. Tactics producing the best results can be pinpointed: do people respond to things such as flash sales, coupons, or free shipping offers? Store admin can even measure the effectiveness of overall marketing efforts by following which products end up in your client's wishlist.
Customer Benefits of OpenCart Advanced Wishlist Extension
OpenCart Advanced order list extension permit clients to mark the Products and save the Products planned to purchase later.
OpenCart Wishlist extension is beneficial for the client experience.
Why Knowband OpenCart Advanced Wishlist Extension?
Knowband is a leading eCommerce development company providing OpenCart plugin development services to improve the functionality of your eCommerce stores. Besides OpenCart, Knowband's experienced developers have been designing plugins for platforms such as Shopify, PrestaShop, OpenCart, and Magento.
Last, check out these links below for more information: