Well, one of the most important problems of online business is shopping cart abandonment, hence it's important to overcome this issue. Well, this is something that is impossible to mitigate against completely and there are people who will inevitably abandon their carts before making a purchase.
OpenCart Reduce Abandoned Cart Addon
OpenCart Reduce Abandoned Cart Addon brings a significant reduction in shopping cart abandonment rate by sending reminder emails etc. Furthermore, with the help of this extension, store merchants will be able to follow up with those people who have failed to complete the purchase and left their cart abandoned.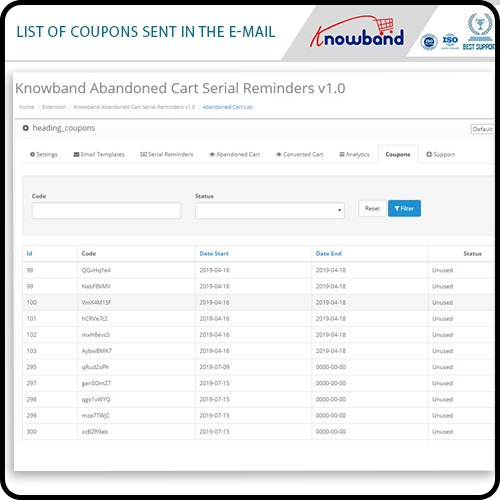 Furthermore, the OpenCart Abandoned Cart Extension helps store merchants to track and recover abandoned carts on their eCommerce website. This extension will also help store admin to convert the abandoned cart users into clients with regular email follow-ups. The store admin can also analyze the cart of the store visitors and send them through email with OpenCart reduces cart abandonment extension. This extension has a positive impact on the conversions of eCommerce websites.
Well, there are various reasons of Installing OpenCart Abandoned Cart, the following are the major reasons:
Reasons to Install Opencart abandoned cart Module
1.OpenCart Reduce Abandoned Cart Extension Helps Merchants Recovering Lost Sales
Store merchants can easily track and recover lost sales with the OpenCart Abandoned Cart Serial Reminder extension as it allows them to send discounted and non-discounted follow-up emails to clients who have abandoned carts.
2. Extension Helps Increase Conversion Rate
OpenCart Abandoned Cart Extension helps in increasing the conversion rate by reducing the high cart abandonment rate.
3. Opencart cart reminder module Set The Duration To Mark Cart As Abandoned
OpenCart abandoned cart reminder extension allows determining a period span after which cart is automatically marked as abandoned. The time span could be set to hours or days.
4. Automatic Email Follow-Ups
The extension OpenCart Abandoned Cart Email Follow Up allows you to send reminder emails automatically after a certain time.
5. Email Templates
The customization of email templates is easier with the Abandoned Cart module. Either it's about creating your own subject line or its about modifying the email content as per your requirements, with an Abandoned Cart module it's possible.
6. Minimum Cart Value And Delay Time
Using the plugin, the store admin can determine the minimum cart value for which a specific email type should be sent. The postponed time demonstrates the term after which that specific update email would be shipped off the abandoned cart client. Moreover, the limited email covers of everyone's choices remembered for the non-limited email. Furthermore, there are alternatives to pick the markdown type (fixed or on a rate premise), coupon esteem, coupon legitimacy and free delivery choice.
7. Opencart Abandoned Cart Plugin Provide Analytics View
OpenCart Abandoned Cart Extension gives the following correlations as pie graphs: Abandoned Cart versus Converted Cart and Abandoned Cart Amount versus Converted Cart Amount. It likewise shows a reference diagram showing the neglected trucks and changed over trucks consistently. You can likewise sift through the information for a particular period.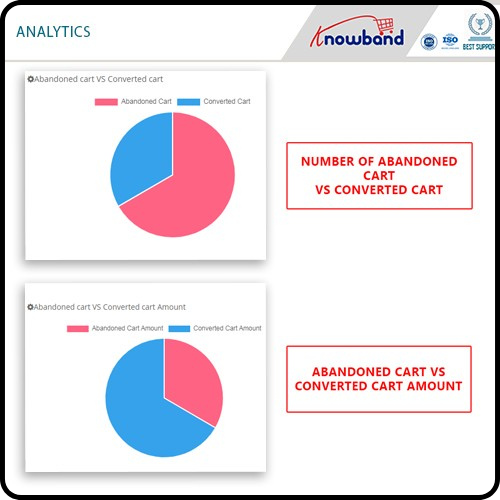 8. Responsive And Compatible OpenCart Themes
OpenCart Abandoned Cart is a completely responsive module supporting versatile tablets just as work area. It is likewise viable with all the OpenCart themes.
9. Offers Multi-Lingual And Multi-Store Compatible
The plugin offers multilingual support and furthermore gives multi-store similarity.