Established in the year 1995, eBay was one of the first online marketplaces and since then, it is a major player. With time, online marketplaces are increasing as an eCommerce strategy. Speaking from the seller's perspective, they are capitalizing from a current progression of traffic to get their items in front of more eyes without having to initially build brand awareness. Whereas from the buyer's perspective, it's a one-stop store for everything they require. Also, the presence of competition helps to keep prices low. If opencart owners wish to list their products on the eBay marketplace, use the eBay OpenCart integration module.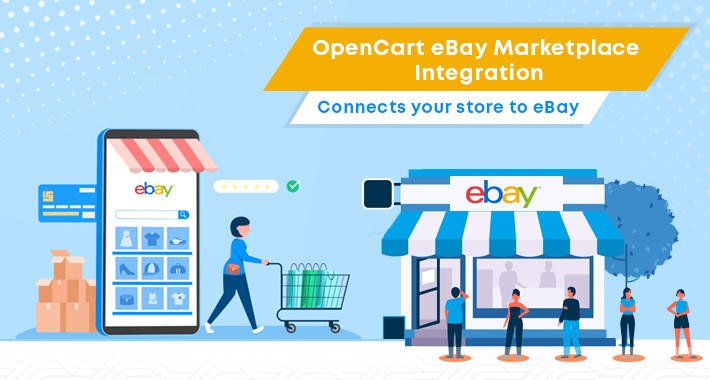 eBay OpenCart integration module is one of the quickest methods to connect your OpenCart store with eBay. Furthermore, the eBay OpenCart integration module makes it easier for the store merchant to connect their eCommerce store with the marketplace. 
OpenCart eBay Marketplace Integration Module
The process of listing items on the eBay marketplace becomes easier for the store admin with OpenCart eBay Marketplace Integration Module. Furthermore, eBay OpenCart API Integration helps in managing their inventory as well as orders with few button clicks. Moreover, with the assistance of the OpenCart eBay API integrator connecting the store with the marketplace becomes easier for merchants. Simultaneously, the OpenCart eBay API integrator automates the entire process of product listing, inventory, and order management.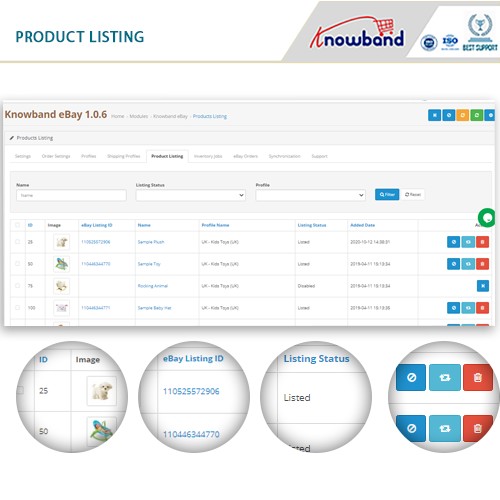 OpenCart eBay Marketplace Integration Extension Key features
1.eBay OpenCart API Integration allows listing products on eBay in bulk.
2.eBay OpenCart Integration permit managing inventory on eBay
from the store itself. Moreover, this plugin manages eBay orders from the store admin itself.
3.OpenCart eBay Marketplace Integration Plugin manages to spend less as well as high pricing on eBay.
4.Allows bulk inventory sync process for listed products. Product quality sent on eBay is managed too.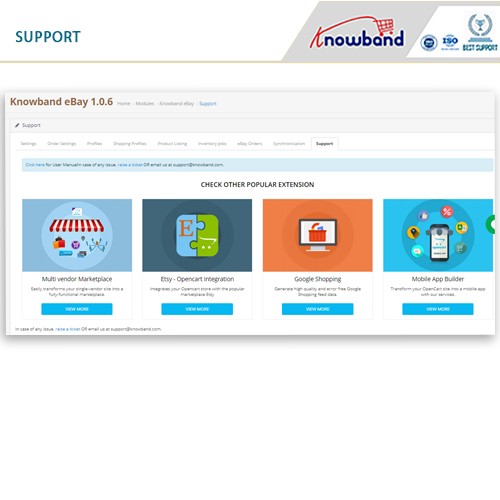 The functionality of OpenCart eBay Connector Extension 
Generating API keys is essential to set up the eBay OpenCart Integration Module. Steps required to generate the API keys mentioned in the user manual. Furthermore, the admin can manage the eBay store listing, inventory, and orders from the OpenCart store after configuring the extension.
How to setup a seller account using OpenCart eBay API Integration?
Before selling on eBay Marketplace, creating a seller account on eBay is a must. The steps mentioned below helps to create a seller account on eBay.
Visit the link – https://developer.ebay.com/
Further, for registration click on the "Register" button. 
Click on join after filling a valid data. Next, you will be redirected to the application creation page.
Mention the application name and click on 'Create a keyset' under the Production section, a new form will be opened.
Furthermore, enter the details and to create keys, click on continue.
The application keys will be displayed.
Click on user token to create user token.
To get a token, click on " Sign in to Production".
Next, fill in all the required details and click on "Sign in to eBay to get a Token".
Either sign in to an already created eBay seller account or register as shown below:
After clicking register and filling in details, you will be redirected to your Seller eBay account.
Conclusion
Incorporating eBay into your selling strategy will take some work, however, numerous organizations have thought that it was extremely fruitful. Ensure you research your competitors so you realize the landscape you're getting into, then, at that point offer extraordinary assistance and support — including quick and inexpensive shipping.
Knowband offers some of the best plugins for e-commerce platforms such as Magento, Prestashop, Opencart, Shopify, etc. Hence, you have your e-commerce store on any of these platforms and facing an issue in any module, including installation you may drop Knowband experts mail. You may write them at [email protected].