Creating a successful multi-vendor marketplace on OpenCart requires careful consideration of the features and functionalities that will enhance the user experience for both vendors and customers. To help you build a thriving online platform, we have compiled a list of 10 must-have features based on the OpenCart Multi-Vendor Marketplace Plugin by KnowBand. These features will not only streamline operations but also drive sales and foster a sense of trust among users.
1. Easy Vendor Registration and Approval
Simplifying the vendor registration process is crucial for attracting sellers to your marketplace. The OpenCart Multi-Vendor Marketplace extension should offer a user-friendly vendor registration form with fields for essential information. Additionally, the ability to review and approve vendor registrations gives you control over the quality of sellers on your platform.
2. Comprehensive Vendor Dashboard
A feature-rich vendor dashboard empowers sellers to manage their products, inventory, orders, and commissions efficiently. It should provide a clear overview of sales performance, pending orders, and revenue earned, allowing vendors to track their progress easily.
3. Flexible Commission Management

The ability to set flexible commission rates is essential for incentivizing vendors and maintaining a fair revenue-sharing model. The plugin should allow you to define commission structures based on vendor performance, product categories, or specific products, ensuring a transparent and scalable system.
4. Advanced Product Management
A robust product management system is essential for vendors to list, update, and manage their products effectively. The OpenCart Multi-Seller Marketplace module should offer features such as bulk product import/export, inventory management, product variations, and the ability to set different prices for different customer groups.
5. Seamless Order and Shipping Management
Efficient order and shipping management are critical for providing a smooth customer experience. The plugin should enable vendors to process and fulfill orders seamlessly, generate shipping labels, and integrate with popular shipping carriers for real-time tracking.
6. Ratings and Reviews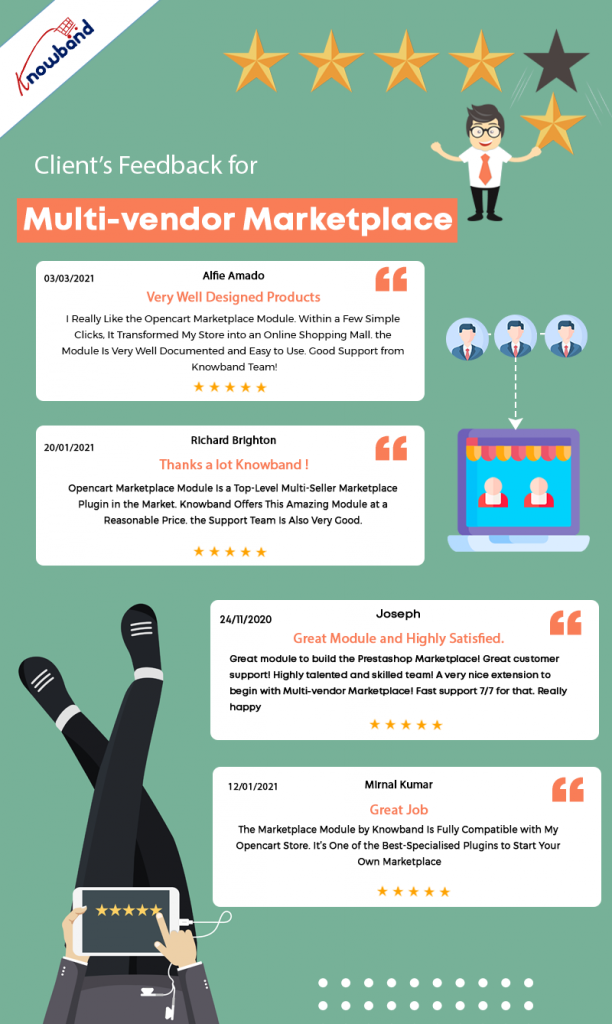 Integrating a ratings and reviews system enhances transparency and builds trust among buyers. The OpenCart Multi-Vendor Marketplace module should allow customers to leave feedback for vendors, enabling potential buyers to make informed decisions. It also encourages vendors to maintain high-quality products and services.
7. Secure Payment Gateway Integration
A secure payment gateway integration is crucial for facilitating seamless and secure transactions. The OpenCart Marketplace extension should support popular payment gateways, ensuring that customers have multiple payment options and that their sensitive information remains protected.
8. Responsive Design
In today's mobile-driven world, having a responsive design is imperative. The plugin should provide a mobile-friendly interface, allowing customers and vendors to access the marketplace seamlessly from any device. This ensures a consistent experience and maximizes user engagement.
9. Robust Search and Filtering Options
An efficient search and filtering system simplifies the process of finding desired products on the marketplace. The OpenCart Multi-Vendor Marketplace plugin should offer advanced search functionality, allowing users to search by category, price range, brand, and other relevant attributes. Additionally, it should support filters to refine search results further.
10. Analytics and Reporting

Data-driven insights are crucial for optimizing your marketplace's performance. The OpenCart Marketplace plugin should provide comprehensive analytics and reporting tools that offer valuable metrics such as sales trends, revenue generation, popular products, and vendor performance. This information helps you make informed business decisions and identify areas for improvement.
Conclusion
Building a successful multi-vendor marketplace on OpenCart requires careful selection of the right features. The OpenCart Multi-Seller Marketplace Plugin by KnowBand offers a comprehensive solution with its must-have features, including easy vendor registration, flexible commission management, advanced product, and order management, ratings and reviews, secure payment integration, responsive design, search, filtering options, and robust analytics. By incorporating these features, you can create a thriving online platform that attracts vendors, satisfies customers, and drives business growth.
For further assistance or any queries, feel free to contact [email protected] and get in touch with their dedicated support team.