KnowBand has left an imprint in the eCommerce business as a leading mobile app provider for practically all the major eCommerce platforms. Furthermore, the easiest approach to develop feature-packed OpenCart Mobile Apps is OpenCart Mobile App Builder. These OpenCart Mobile Apps can be built in just 3 simple steps:
Step 1:
The first step is to purchase the Opencart Mobile App Builder extension.
Step 2:
Admin needs to share app-related specifications and requirements.
Step 3:
You will receive your native OpenCart Apps in 2-3 days.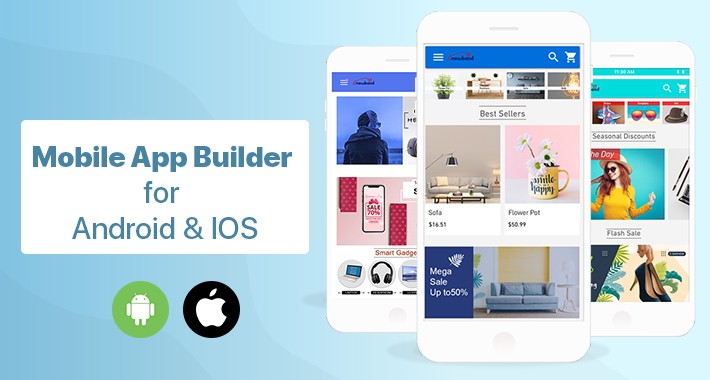 OpenCart website owner presently selling items on your site must give KnowBand's automated mobile apps solution a chance and take your business to the portable or mobile world.
OpenCart Mobile App Builder
The pre-configured framework intended to foster native Android & iOS applications for your online site is what defines OpenCart Mobile App Builder. Furthermore, this ready-to-go mobile app solution is the most exceptional, advanced & smartest solution for completely functional Android & iOS stores without coding or specialized abilities.
Which features have been added in the recent version of OpenCart Mobile App Builder?
The latest version of OpenCart Mobile App Builder offers some of the incredible features which are listed below.
Feature 1: Add to cart on home & category screen
The latest version of the extension offers the Home screen and Category screen. This feature of the module has an "Add To Cart" button for each item block. Further, This quick access adds items in the cart to help inconvenience of application. Online customers need not navigate to the item screen just for adding items into the cart. Just clicking on the Add To Cart button will do the work.
Feature 2: Permit rating & adding product reviews
The OpenCart Mobile Apps presently have the functionality to displaying product reviews permitting the clients to write reviews too. Further, the latest version allows writing product reviews to help users to make correct purchase decisions. Also, this helps in improving sales as well as revenue. Both "Write Review" and "View review" choices are accessible on the product screen of Android and iOS apps.
Feature 3: Opencart mobile app creator latest version offers related products
Improve cross-selling on your OpenCart Mobile Apps with related items, featured at the bottom of the product screen. Furthermore, the blocks such as "Frequently Bought Together", "Similar Products" and so on provide prominent suggestions for portable customers and guarantees them a commendable combo buy.
Feature 4: Offline Mode
The latest version of OpenCart Mobile App Maker comes with offline compatibility. Furthermore, using Opencart eCommerce mobile app extension, pre-loaded screens accessed with slow or no internet connectivity. This feature makes it a must-use extension. The latest version of the module enhances the shopping experience of your app.
Final Take on Opencart Mobile App Builder
Versatile (mobile) as well as tablet responsive applications in just a few clicks without requiring any coding information makes OpenCart Mobile App Builder a unique extension. Furthermore, OpenCart Mobile App Maker offers a flexible home screen and effortlessly redone according to the requirement.
Along with that, the extension offers other features such as different payment and shipping methods, multi-lingual, and all types of product support. Hence, these features result in a better user shopping experience.
For better customer support, OpenCart mobile app creator offers Zopim as well as Whatsapp chat services through which you can directly interact with your clients and settle their issues.
Knowband
KnowBand, a team of an outstandingly skilled and proficient pool of programmers, designers, and other involved professionals. Further, Knowband's OpenCart mobile app intently matches your expectations and business prerequisites.