OpenCart Mobile App Builder makes the application user-friendly and offers higher customer satisfaction with splendid features as well as functionalities. Incorporate a mobile application for your OpenCart eCommerce business and leverage the reach of the portable devices.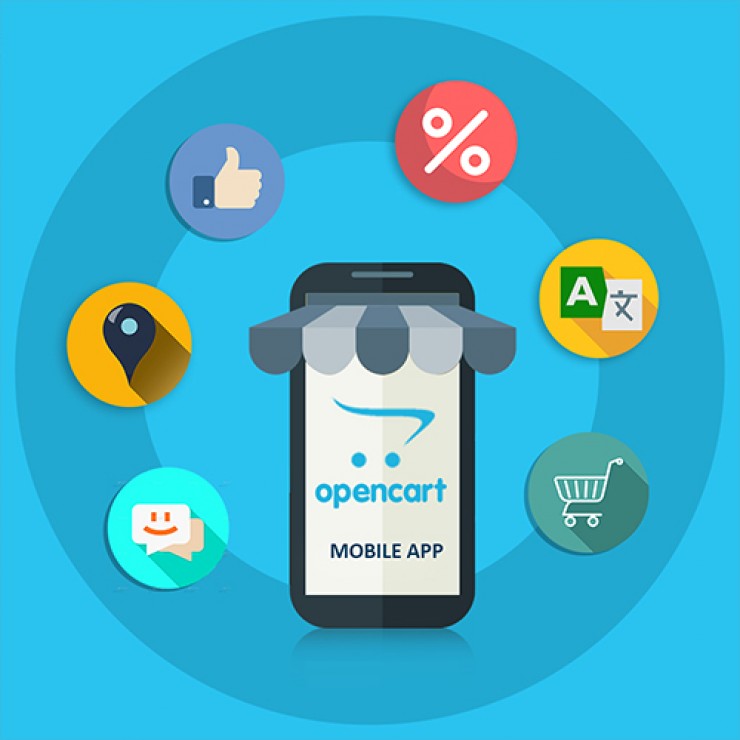 OpenCart Mobile App Builder allows you to select the features and customize the look of your mobile store. The application also permits the clients to shop for your products when they have no time. Speaking about the design, it comes with stunning UI and exceptional encounters with your clients too.
OpenCart Mobile App Builder advantages
1. Opencart mobile app creator comes with the "Add To Cart" option.
Opencart mobile app creator comes with an "Add To Cart" option that can be added on the Home & Category screen for every product block. Moreover, this quick access to adding products to the cart is extremely useful. Furthermore, this option is highly beneficial for online shoppers because they don't have to navigate to the product screen just for adding a product into the cart. Just simple tapping is required and the job is done.
2. Opencart mobile app creator can be operated on "Offline Mode"
The option of offline compatibility is available in OpenCart Mobile App Maker too. Offline compatibility means your pre-loaded screens can be accessed with slow or no internet connectivity that helps in enhancing the shopping experience of your app.
3. This module offers OTP & Fingerprint
OpenCart Mobile App Creator offers other advanced login options. Such as fingerprint verification and OTP authentication. It also provide reliable social login options. Furthermore, this option allows users to log in to the app easily. Hence, the client doesn't have to juggle between finding the right username and password.
4.Opencart eCommerce mobile app extension include "Add To Cart Navigation"
On the other hand, OpenCart Mobile Apps store admin can even set the navigation of the 'Add To Cart' button. Either you can redirect the shoppers to the shopping bag or keep them on the product page for additional browsing. Also, this feature reduces the cart abandonment rate. Moreover, it motivates mobile shoppers for additional purchases.
5. Opencart mobile app maker support languages and RTL
Along with RTL writing styles like Hebrew, Arabic, Urdu, etc, OpenCart Mobile App Maker supports different languages in the mobile apps. All the regional scale businesses would now be able to take advantage of the worldwide market easily. The store admin can undoubtedly focus on the worldwide audience.
6. One-Page Checkout provided by this extension
Whether it's Opencart Android app builder or Opencart iOS app builder single-page checkout will be found on both the mobile operating systems. One-Page checkout makes the product purchase more smooth for the front-end users and the easy order creation causes less cart abandonment rate.
7. Support Coupons/Vouchers
Mobile coupons are a high-level approach to offer discounts and offerings to those who are app users. A wide range of coupons and vouchers running on your OpenCart web-store is completely upheld on the Android and iOS mobile apps. This module helps store owners to offers loads of discount coupons and increase the purchase.
Conclusion
Therefore, mobile app creators who prefer Zopim and Whatsapp chat services for interacting with their customers and solve their issues prefer OpenCart mobile app creator. Also, this module is compatible with the Opencart marketplace module.