"Business opportunities are like buses, there's always another one coming."- Richard Branson".
And it's very essential to grab the right opportunity at the right time and for that, one has to expand one's horizon. Therefore, it's important to showcase your business online. It is important to create an eCommerce website.
Now, the most important question – how to make it successful? Some eCommerce stores or brands believe that "a good design is capable of charming the customers" so that emphasizes creating the best products, for others, it's smart conversion and content. Whatever you're focusing on, the checkout cycle is viewed as the finish of the channel and henceforth, a section where you need to concentrate twice so much.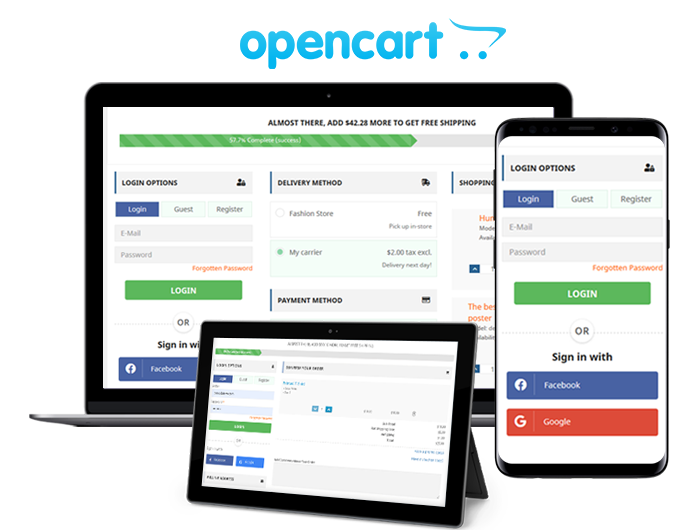 One Page Checkout Extension- IT'S NECESSARY TO KNOW ABOUT THIS
Speaking about OpenCart One Page Checkout Extension, it is a checkout process that simplifies and improves the customer experience. This process helps in reducing cart abandonment and allows for a better conversion rate by boosting it up.
Benefits:
OpenCart One Page Checkout Extension is all about fewer steps and fewer clicks:
OpenCart One Page Checkout Extension is the path of least resistance, reducing steps and fewer clicks. This keeps the checkout process short and simple which is loved by every customer.
2. Speed and efficiency are far better in Opencart Open Page Checkout Extension:
The loading speed of OpenCart One Page Supercheckout is faster. It saves loading time between payment pages. Besides that, this reduces navigation time as well.
To know more about OpenCart One Step Checkout extension, click the link below
3. This is easy to use:
The way the OpenCart Fast Checkout extension has been structured makes it easier to use for customers because all it contains is limited steps, and following those steps takes less time. As everything is in one place therefore you can enter information at your own pace and order.
To know more about OpenCart One Page Checkout extension, click the links below
2. Front Demo
4. Opencart One Page Checkout comes with a lower abandonment rate:
People need to change their perspective if they think that optimizing checkout is all about pleasing your customers. It's about increasing conversion and revenue. And when you improve the checkout experience with the help of OpenCart One Page Checkout Pro, that leads to more conversions and greater revenue. This way customers have to abandon checkout less and finish their checkout more.
Now, coming back to the question, how does OpenCart One Step Checkout extension simplify the checkout process?
Whether it's cart contents or payment details or billing and shipping addresses or shipping options, in one page checkout one can find everything in one place. This also allows users to fill out the information in any order, as all form fields are on one page. Overall, every piece of information is processed on that one page.
Multi-step checkouts simplify the checkout process:
OpenCart Single Page Checkout extension information uses multiple steps and often pages to complete the checkout process.
2. Single-step checkouts in OpenCart Fast Checkout extension lead to the easy checkout process:
Utilize one step to complete the process, such as a single webpage, a single email, etc. While they may require various fields to be filled, they are often on a single page or finished with just one 'activity' being needed by the client.
3. Single-click for easy checkouts:
One-click is all required in the OpenCart One Step Checkout extension to complete the checkout including steps like billing, shipping, and other payment information.
Hence, we suggest OpenCart One Page Checkout extension for better business.
Buy OpenCart One Page Checkout from official OpenCart Marketplace