Opencart Google reCaptcha extension is beneficial for your eCommerce website as it detects as blocks suspicious bots coming on your website. Moreover, this extension helps in maintaining the quality of your website as it filters out irrelevant traffic. Hence, one must invest in the Opencart Google reCaptcha.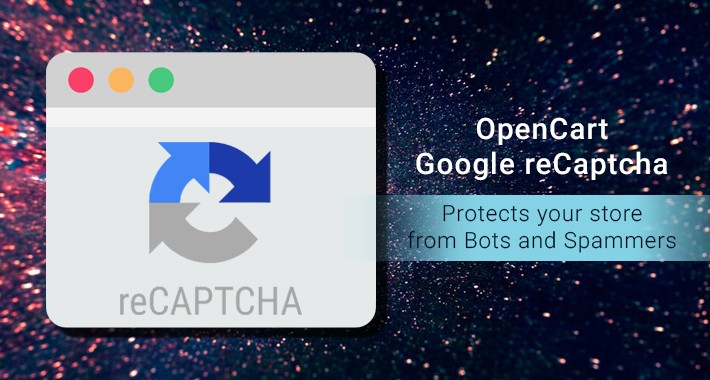 Opencart human verification offers the liberty of stopping unnecessary entries right on the login or registration page. Moreover, this module helps in differentiating store owners to differentiate between human visitors and spammers coming to the website. The module allows them to perform further actions at your store once the visitor is verified as human.
Opencart Google reCaptcha features
1. Improves website security by integrating a security verification system on pages including login, registration, and contact us page.
2. Works by verifying the visitor is human or bot.
3. Opencart human verification allows the store admin to restrict the entry of spambots. Moreover, store admin can integrate as well as display the Google ReCaptcha on pages including:
Client Login Page
Client Registration Page
Customer Contact Page
Customer Forgotten Password page
4. Human verification Opencart extension is compatible with SSL-enabled websites. Furthermore, the Human verification Opencart extension is compatible with v2 reCaptcha as well as the v3 reCaptcha system.
5. Human verification Opencart extension is multi-store as well as multi-lingual compatible.
Opencart Google reCaptcha Benefits to Admin
1.This module is easy to install as well as configure. Moreover, store admin doesn't require adding a human verification check manually because everything operates with the help of a simple click function.
2. Furthermore, from the backend of this OpenCart Google reCaptcha extension, store merchant step-by-step instructions to setup site key and secret key.
3.Human verification Opencart extension offers flexibility to enable as well as disable the OpenCart Google reCaptcha extension for the selected pages at the eCommerce store. Moreover, the module even stops bots from automatic form filling as well as accessing services from the website.
My take on Google Recaptcha Opencart module
OpenCart Google ReCaptcha is the right alternative for eCommerce stores. The extension secures your OpenCart store from spambots. Furthermore, it works by verifying whether the visitor visiting your website is human or not.
Furthermore, the verification made Human verification Opencart extension is available on various pages. Including the login page, registration page, contact us page as well as forgot password page. Moreover, this module helps in driving quality content to your platform and even helps in preventing fake registrations at your store.
The most important feature of this plugin is its compatibility with both the versions of reCaptcha- with v2 and v3 reCaptcha systems. Moreover, this module quickly adds this security check to your eCommerce website and also deals with behavior or request which is suspicious.
Therefore, we recommend this Knowband extension.
Why Knowband?
Knowband is known for providing best-in-class plugins to different eCommerce websites including Opencart. Furthermore, Knowband plugins enhance the functionality of your eCommerce websites. Also, store owners facing any issue regarding this extension or any other module can write at [email protected].