Even if your website offers a smooth and uninterrupted shopping experience, customers shall leave your website if after reaching the checkout page product is unavailable on their location. This can make customers feel frustrated and increase the cart abandonment rate. So how to control cart abandonment rates and attract potential customers to eCommerce stores? Knowband OpenCart Product Availability is the right extension.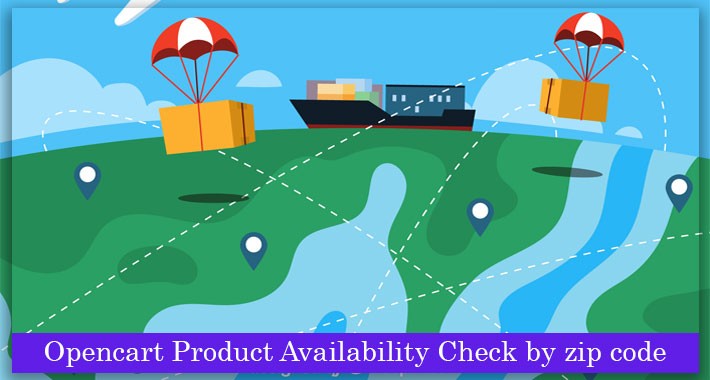 OpenCart Product Availability Check by Zipcode Extension
OpenCart Product Availability asks visitors to mention their zipcode before purchasing any product. Moreover, the Product zipcode validator module displays a success message along with the expected delivery date on the frontend, if the product is available a the provided zip code by the customer. Furthermore, this module helps in controlling cart abandonment rates which leads to a better user experience in the store. Hence, OpenCart Product Availability Check by Zipcode module is recommended.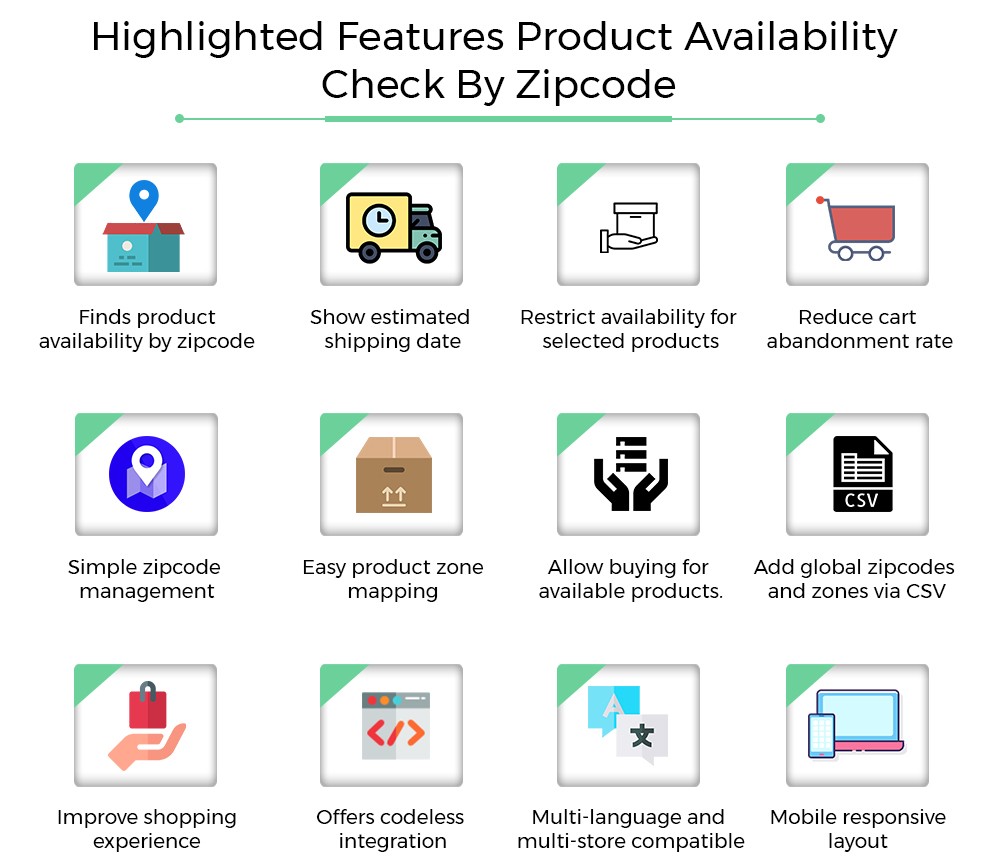 Features of OpenCart Product Zipcode Validator
1. Displays an availability checkbox on the product pages where clients can enter their zip code. Moreover, they can check the shipping availability of the product in that particular region.
2. OpenCart Product Postal Code Validator extension permit store admin to create unlimited global zones as well as map many zip codes under those specific zones. Moreover, using this extension, store admin can easily map zones with zip codes by uploading CSV files. OpenCart Product Availability module can either map desired products with the global zones or upload CSV files directly for bulk upload.
3. Offers an option to restrict or exclude the products for which the shipping or delivery is unavailable. Moreover, the extension allows e-merchant to display the delivery days as well as the date on the frontend to the clients
4.Shows the "Add to Cart button" on the frontend if the delivery for an entered zip code is available for the user. Moreover, the store admin can enable the module for specific products. Else, standard checkout will be displayed for each item.
5. OpenCart Product Availability enable or disable the entire functionality of the OpenCart zipcode extension accordingly from the back-office.
6.To install or configure OpenCart Availability check by zip code functionality for the store, the admin requires zero technical efforts.
7.OpenCart Product Availability allows store admin can either enable, disable or delete existing global zones and zip codes according to website requirements.
8.Edit or modify Product-Zone Mapping from the back-end of OpenCart Product Postal Code Validator extension.
9. OpenCart Product Availability is multi-store compatible.
My take on Product Availability Check by zipcode OpenCart module
Besides store admin, this extension offers great benefits to customers as well. From registered to non-registered clients, everyone can check for product availability in their zones or postal address easily. Furthermore, the module decreases the customer frustration and saves their shopping experience as they can know before product checkout whether the carrier is available to them or not. This leads to an increase in customer engagement.
Furthermore, store customers can find whether the product can be shipped to their location or not, OpenCart Product Postal Code Validator Module incorporates a simple Product zipcode validator on the product page. In simple words, the OpenCart product zipcode validator improves overall functionality by enhancing both the user experience and interface of the online store.
Why Knowband?
Knowband offers best-in-class plugins for different eCommerce platforms including Prestashop, Opencart, Shopify, etc. Furthermore, it offers best-in-class development services and efficient post-sales support. Knowband developers even design marketplace extensions, online stores, mobile eCommerce applications, etc. For any query, you may write at [email protected]